College Park is less than 8 miles southwest of downtown Atlanta. It has easy access to interstates 85 and 285 and parts of Hartsfield–Jackson Atlanta International Airport, including the domestic terminal, are within the boundaries of the city. The city is served by the College Park MARTA station, which is just one stop from the airport.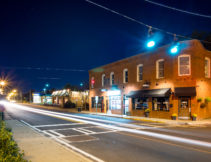 The area is in close proximity to EUE/Screen Gems Studios and Tyler Perry Studios. The top 10 employers are mostly aviation related however other known brands have headquarters located there. College Park has multiple recreation centers and has four parks including Barrett Park, Brenningham Park, Jamestown Park and Richard D. Zupp Park. The downtown area includes restaurants like Don Sige Taqueria, Brake Pad, The Corner Grille, Zab-E-Lee Thai, Kafenio and the Urban Foodie Feed Store.
College Park Schools
Depending on the specific area, residents of College Park are served by the Fulton County School System or Clayton County Public Schools.
Schools include:
College Park Elementary School
Love T. Nolan Elementary School
G.W. Northcutt Elementary School
Main Street Academy
Hapeville Elementary School
Heritage Elementary School
Oak Knoll Elementary School
Main Street Academy
Paul D. West Middle School
Woodland Middle School
Frank S. McClarin Alternative High School
Woodward Academy
Check out College Park homes for sale below. To see properties, contact us today.