The lady and I went out to brunch at Bantum Pub in Old Fourth Ward. The curbside tables are dog-friendly. We got out later than planned, so after brunch and mimosas, we decided to take the convertible, rather than walk, to enjoy the nice weather and see some nearby open houses. We love moderns so we stopped by 414 9th Street in Midtown.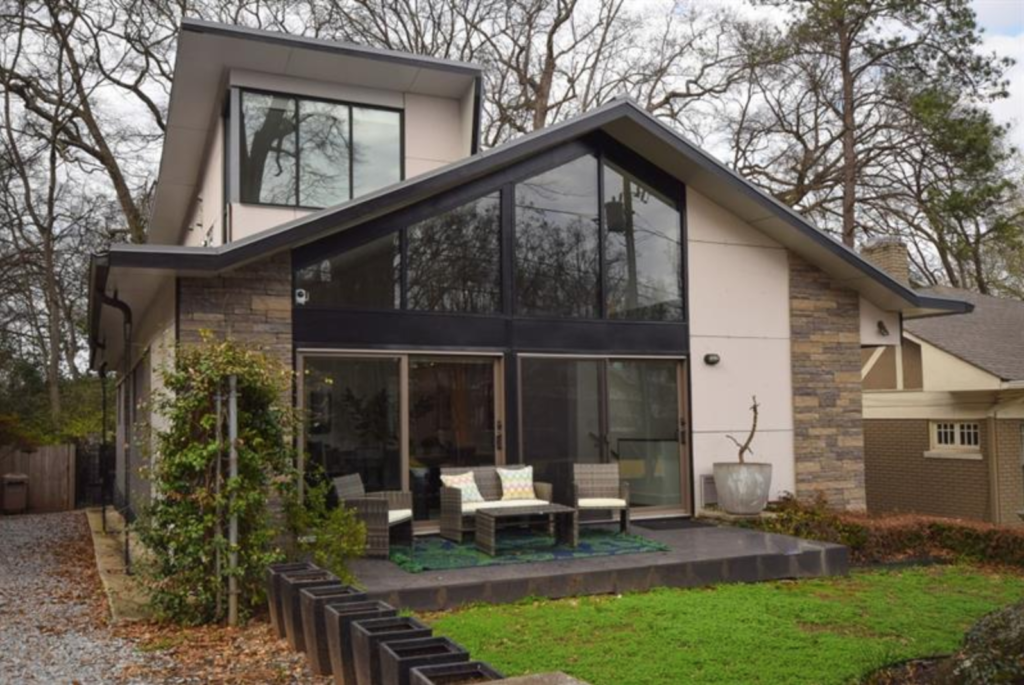 It's a renovation I remember from 2006, the listing agent Michael would tell me. Yes, I've been in this area for 20+ years and know what's happening and where. Call me "classic". 414 9th Street is an older, single-family detached home, updated with contemporary styling in Midtown Atlanta. Located on 9th Street, it's just one block from Piedmont Park and a few shorts blocks from the heart of Midtown Atlanta. Location is perfect, near the action but on a quiet street.
414 9th Street Interior
The house has a nice flow with a few private, outdoor areas. The master bedroom has great windows with tree-top views in the bedroom and a bathroom with a large European style tub/shower area. There's also a sizeable, private deck off of the master on-suite. There's a 2nd bedroom upstairs with similar views to the master bedroom but to the front-side, but no sign of a true 3rd bedroom.
The finishes could be much higher quality though. The devil is in the details and the cabinetry & shelving installations were clearly Ikea, made to look "built-in", but not quite there. Edges, corners and trim could have seen more attention. Otherwise, the general idea worked.
414 9th Street Exterior
But, in the backyard there's a 1 car garage/studio with roll-up garage door and large windows. It could be easily finished for a more polished, indoor look, maybe a creative studio or in-law suite. From the driveway, a side door opens up to the house's stair column. Go up to the kitchen or down to the basement and find a laundry closet and a small flex room.
Overall
The home has a lot of potential and functionality for the right buyer. Multiple outdoor spaces and rooms with window views blend the inside with the outside. While the finishes could use some attention, overall it serves its purpose.
414 9th Street is asking $950,000. View other comparable homes with 3 beds, 3 baths in 30309. Take a look. What do you think? Are you ready to buy?